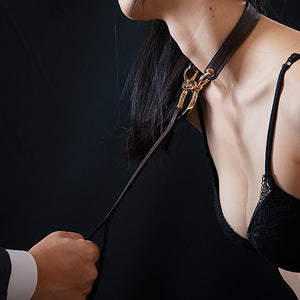 Collar with lead (order)
■ It will be a made-to-order product. We will tailor and ship within 2 months after receiving the order.
■ We will send you a formal order mail after tailoring. A collar with a lead.
Use it not only as a decoration, but also when treating your partner like a pet.
It's a short reed, so please pet it near your hand.
The leather is made from the finest Italian tanner, Badarassi Carlo, called Liscio.
Cowhide carefully tanned with vegetable tannins is full of luster and has a moderate tension.
As with most SaMidare items, the leather is glued together, with both sides facing the grain (surface) and sewn together.
In addition to pulling it by hand, you can also use it by passing it through your feet such as furniture.