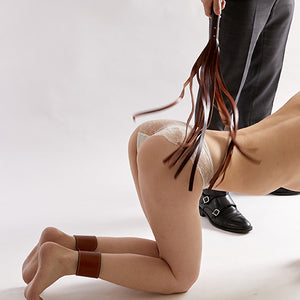 cat-o'-nine-tails-one side (order)
■ It will be a made-to-order product. We will tailor and ship within 2 months after receiving the order.
■ We will send you a formal order mail after tailoring.

A rose whip with a characteristic grip carved from ebony using a lathe.

We use leather from Badarassi Carlo called Liscio or Pueblo. Pueblo is also recommended because it has been slightly roughened from the beginning and there is not much difference between the front and back.

The edges of the wood are butted and finished by scooping with hemp thread soaked with beeswax.

At SaMidare, all processes are sewn by [hand-sewn] with the soul at a glance.

Please understand beforehand that all the grips will be made by one-of-a-kind items.